It was an off day for the boat, so we decided to create an adventure closer to home. Since my Dad's birthday and Fathers Day landed on the same weekend, we thought we would combine a trip south, visit my Dad and keep driving to a state park in Waterville, MN. The Sakatah Lake State Park looked like a great place to do some camping and hiking. It boasted a great biking trail as well.
Unfortunately, we arrived at Dad's facility right before they were to serve lunch, so our visit was rather short. Dylan did get a chance to tell him about his T-ball and wish him a happy birthday. We decided to press on, though it meant we would arrive at the campsite early given our 4:00 pm check in time.
We arrived to find the previous campers still at the site, so we walked some of the trails and saw the lake, killing time. We went into town and had an ice cream cone, came back to find them still there and we were still an hour early. So, we drove around and visited the town of Faribault.
We returned to the State Park after 4:00 expecting our site to be open and ready for us to set up. But it wasn't! The previous tenants had changed the sign as if they had it rented for another night, so we went to the office and talked to the Park Rangers. They couldn't find the renters and had no other place big enough for our tent.
Was our adventure cancelled?
Lucky for us NO! The Park Rangers offered us the use of the group camp site since it wasn't in use. It was big enough for 50 people, had four tables and a bunch of grills, a pit toilet on it and water! It was away from all other campers as well so we could let Bug run free. What an awesome turnout. We set up and Dylan played in the tent. He really enjoys it.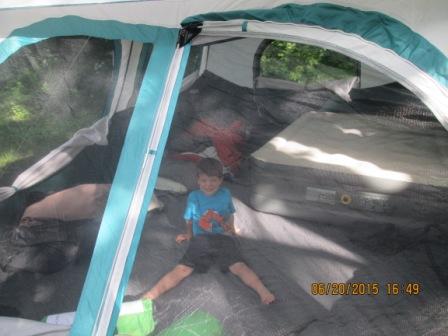 And Bug! He had a blast. It is amazing how things can sometimes work out for the best.
We set up camp and played around, had an awesome dinner of pork chops. corn on the cob and baked potatoes followed by a campfire under the stars. The bugs were out and had definitely found us, but we made due with extra sprays of bug junk, as long as we were by the fire and under the stars I was happy. The boy crawled into my lap and fell asleep shortly afterward. It was a long day so I can understand why he was tired. Troy picked him up and we put him to bed on in his sleeping bag. Troy and I returned to the fireside and watched the fire and the lightning bugs play. The stars came out and peeked at us through the canopy of trees around us. The bugs went to sleep, as they usually do, and it could not have been a more perfect night. Troy and I didn't want it to end. But eventually, we headed to the tent and sleep very well ourselves.
The next morning Dylan was up before the rest of us, crawled into bed between us and fell back to sleep. (Given how late we stayed up, I was very grateful he went back to sleep!). We all got up and enjoyed the sunshine and coffee and homemade carrot bread before deciding to do some hiking of our own. We'd seen lots of folks go past the campsite on their bikes and were ready to check it out.
Though the day was a bit muggy and the bugs were busy in the woods, the hike was a nice one. The trails are nicely maintained and not too hard (Dylan got tired toward the end of the hike, but Bug never did). I would recommend that area to anyone, especially if you're thinking of a biking adventure since the campsite is a part of the Singing Hills Trail.
After our hike we returned to the site and packed up and headed home. An excellent adventure!