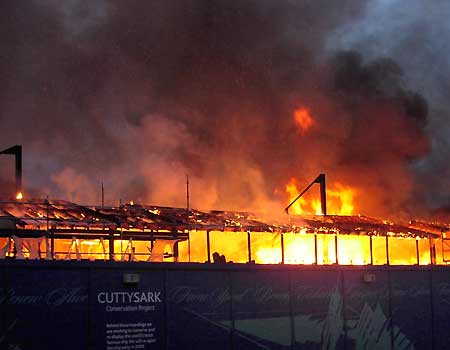 Posted by Karen A. Brown
Earlier today, the Cutty Sark, a 138-year old tea clipper, burned in London. The Cutty Sark is the only tea clipper still in existence. She was built in 1869 during the British imperial grandeur. She made a number of trips to China during her years of service and even saw some service during the First World War.
On Monday, May 21, eight fire engines and 40 firefighters responded to a blaze at the dry dock at William Wark in Greenwich, south of London where the Cutty Sark was in dry dock. They managed to put out the blaze and investigators were going to be sent in to investigate the cause of the fire.
Luckily, much of the historic treasure that was on board the Cutty Sark had been removed for restoration.
Scotland Yard is treating the fire as suspicious and there were reports of people around the boat prior to the fire.