We arrived at the marina late on Wednesday evening after packing and driving up. We got to the marina very late and went to bed almost immediately. A late arrival means a late morning, but by noon we we had fueled up, pumped out and departed the marina. We were on our way. The weather was bright and sunny. We hoped to be able to sail about the islands as we made our way to the dock, but in the end only got in about an hour of sailing, though that hour was AWESOME!
The dog, unfortunately, might not agree with me. He had been having an issue with his back leg and unfortunately took a tumble down the companionway during a puff of wind and he was looking forward to reaching an island and a good long soak in the restoring waters of Lake Superior. Lucky for him, we arrived at the dock at Stockton in short time (around four hours) and found plenty of room for WhimSea.
We arrived in plenty of time to spend time at the beach, soaking Bug (with multiple stick throws and plenty of swimming). He was obviously feeling much better after just an hour at the beach. He was shivering with cold and ready for a break when we headed back to the cockpit to think about our plan for dinner.
We spent some time watching Troy sail his 'little boat' about the safe harbor. It always surprises folks to see it.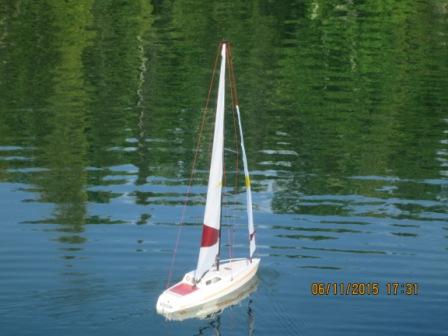 We retreated to the dock by the boat and pulled out the chalk. We all had a great time drawing with chalk. During the afternoon a boat from our new marina in Washburn pulled into the dock. They got settled and joined us on the dock for a drink and some good conversation and storytelling.
Here's some of our chalk drawings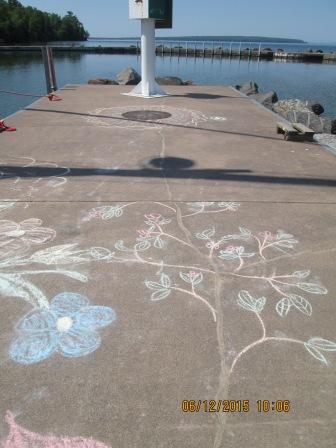 After a relaxing dinner of chicken breast and vegetable couscous we retreated below decks as the evening got a little cool. Dylan and I had an early night of it, admittedly because I fell asleep putting Dylan to bed.
Friday morning and Troy awoke feeling poorly. He had been fighting a bug for most of the week and it clearly had caught up with him. Dylan and I sent him back to bed.
While Troy slept, Dylan, Bug and I spent some time at the beach. We threw sticks for Bug, rocks in the water, sand in the water. We just played. I am amazed at how easily both Dylan and Bug play in the water. I put my feet in and had to run back out, it was so very cold! But I have to say it was awesome playing with them. Being completely connected from all electronics, in the sunshine and fresh air, doing whatever our imaginations dreamt up. Dylan created a game for us to play that used his water shooters to get rid of all the sand in the cockpit. Then we got rid of all the sand on the dock. Eventually turning our attention to the chalk drawings we had made the night before. It didn't take long before we were both soaking wet from squirting each other, but the sun had come out nice and warm so the cold water was a welcome shock to our systems.
Troy got up feeling much better and the three of us had lunch and lazed about the boat. Since the campsites were all empty, we hoped to be able to have a fire and s'mores so the boys went to investigate. Unfortunately the trails were all muddy and wet, so no fire. Instead, we had a dinner of pork chops, sweet potatoes and pea pods below decks, followed by popcorn and a movie.
Saturday morning dawned beautifully. We had coffee and homemade cinnamon bread while making our plan for the day. We thought we'd try and sail-fish our way to the next dock so we put out the poles and prepared to depart the dock. We decided to head over to South Twin, the forecast being favorable for that dock and hoped it would be open. There was not enough wind to fish on so we took a straight route to the dock. Lucky for us it was open so we got settled and did some exploring on the island. We were hoping to find the air strip that used to be on the island but could not make it very far inland the fallen trees and foliage was so thick.
We enjoyed ourselves playing on the beach and throwing sticks into the water for Bug and rocks into the water just because. We decided to have a fire at the beach and have dinner there as well and set up for a relaxing dinner of grilled steak, red potatoes and broccoli. While we were getting things ready another boat pulled up and docked. Though not exactly without Troy's help. The owners strolled about a little and then did something so very weird. They grabbed a bunch of wood from the beach and walked over to the fire ring and through it on the fire. Course they apparently didn't realize that it was already LIT! I think they were trying to claim the firepit as their own, which is weird since there was another place to do a fire, they just need to turn right instead of left from the dock. We invited them to join us for a fire later, especially since they dumped wood on ours, but they didn't join us. Weird.
Regardless, we enjoyed a wonderful dinner and s'mores and Dylan had his very first toasted marshmallow (without the chocolate and graham cracker).
Sunday morning and was absolutely beautiful. Our dock mates had apparently gotten up early and left (before we had even poked our heads up). So we were able to enjoy the beach, coffee and coffee cake before heading back to the marina. It was another windless day so we motored around the north side of the island (since we hadn't seen that side in a few years), and made a path for Washburn. We went to the east side of Madeline (first time), getting a good look at Big Bay and the homes on that side of the island.
We arrived at the marina and decided to run into town for pizza before we pack up the boat and drive home. We went to a local restaurant, packed up the boat and began the long drive.
It was a great weekend. We extended Sunday a little longer with the roundabout way we returned to the dock, but it was worth it to extend the time we spent on the water.