Return to WhimSea's Home Port.
Category: General
05/09/11

11:05:22 am, Categories:
General
, 42 words

Getting WhimSea ready for 2011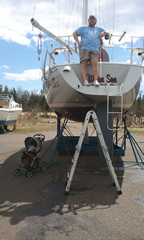 Dylan, Troy and I visited Lake Superior this weekend to get the boat ready for splash down. As you can see, Dylan spent most of the day in his stroller watching Dad work on the hull (waxing, touching up the bottom paint).
04/19/11

11:38:50 am, Categories:
General
,
Adventures
, 41 words

Dylan's first boat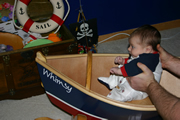 Troy just couldn't resist getting this rocking boat for Dylan. It'll be a little while before he's big enough to rock in it on his own, but he sure does look cute, doesn't he? Besides, it counts towards 'Sea Time', right?!?
03/31/11

11:55:59 am, Categories:
General
, 32 words

Welcome
Welcome to Dylan's WhimSea Blog. Dylan is a sailor in training on the good ship WhimSea. I thought it would be fun to chronicle Dylan's adventures on the lake and the marina.